Published on 28 August, 2020
|
Last modified on 1 November, 2022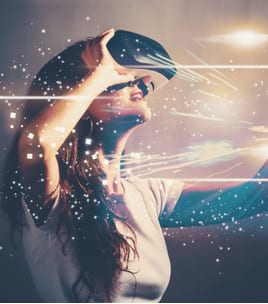 It's hard to predict the future of Learning & Development (L&D), especially for those within the industry. Keeping up with new trends and training ideas can be an exhausting process when preparing a killer training plan.
L&D Prediction #1: Increased Personalization
"I believe L&D professionals will be looking for ways to incorporate more 'live' and personalized interactions with participants in the near future."
This belief is accurate as training teams have recently started incorporating personalization into their training methods.
In fact, custom learning paths have risen as training strategies within the L&D industry. This type of training path allows a learner to choose which training resources to use and when. To date, 21% of trainers use custom learning paths.
These learning paths provide a strategy that increases learner buy-in (a top challenge facing L&D professionals). Learners can then take the wheel of their own experience by participating in training sessions most related to their needs.
These paths not only keep the viewer engaged, but they also provide a learning experience that lets learners take the wheel of their own training.
L&D Prediction #2: Experimentation with Virtual and Augmented Reality
"I hope it will be the growth and adoption of live simulation training. I have seen this type of training have very powerful impacts on an organization."
To boost interactive training, respondents have started using virtual and augmented reality (VR/AR) as well. These reality simulations provide real experiences to trainees and offer a first-hand taste of what they can expect in the field.
This adoption of live simulations is allowing for a better understanding of risky processes like emergency safety drills for the trainees themselves. For this reason, about 7% of our respondents are currently leveraging VR/AR, while the number of respondents expected to implement VR/AR more than doubled from last year's total.
L&D Prediction #3: New Roles for a New World
"I think digital expert roles that expand the understanding of emerging technologies will emerge in the next 5 years."
With more L&D teams adopting new technology to deploy training, new positions will need to be created and filled. Most L&D professionals within our survey believe Virtual Trainer, Virtual Content Developer and Virtual Classroom Expert will become popular roles in the near future.
Furthermore, the support of Artificial Intelligence (AI) will require additional roles involved in the upkeep of virtual training systems. Respondents in our survey forecast that these roles will be key in the next five years.
New roles come as a result of evolution in the training process. Thanks to our 2019 State of L&D Report, we can now see how this evolution is altering the industry and what it means for our immediate future.
A representative will be in touch with you in the next 24 hours. See how much you can save.
Fill out the form to get a 10 minute demo. A representative will be in touch with you in the next 24 hours.
It's easy to print your business documents online with Mimeo.
No Order Minimums
Print from Wherever You Are
Budget-Friendly Prices
Overnight Delivery
API Integration
Warehousing