Create Your Perfect Printed Booklets, Your Way
Showcase your services in a professional booklet, document your research in a printed report, send out brand magazines, or upgrade your portfolio with saddle-stitch binding. No matter what you're printing, you are in complete control to build the booklet of your dreams.
High-quality graphics like photographs, charts, or illustrations
Professional color matching to CMYK or Pantone values
High-end paper stocks like silk finish or card stock covers
In our real-time builder, you'll watch a virtual proof update with each of your changes so you can order the document knowing that what you see is what you'll get. 
---
Customize Your Print with Mimeo
Standard Booklet Sizes
- 8.5″x11″ - 5.5″x8.5″ - A4 - A5
Interior Paper Stocks
- Economy White - Value White - Premium White - Premium Paper 100% Recycled - Glossy White - Colored Paper
Cover Card Stocks
- White Card Stock - White 100% Recycled - Glossy White
Binding Types
- Saddle Stitch Staple - Spiral loop - Twin loop
Print Booklets that Wow
When to Choose Printed Booklets
A custom-printed booklet is a perfect solution for showcasing multiple products or complex topics in an attractive, easy-to-consume document. If you do it right, your audience won't want to put that booklet down.
Print that People Notice
Your amazing graphic design means nothing if your printed booklets have color streaking or misaligned binding. Mimeo guarantees high-quality print delivered on-time, no matter where in the world you need it. That includes saddle-stitch binding, premium paper stocks, full-bleed color printing, and more.
Stress-Free Print
Order your custom printing on your timeline, even if that's the night before you are supposed to put them in the hands of your audience. Place your order by 10 pm ET for delivery as soon as the next morning.
Deliver Directly to Your Audience
We deliver to up to 500 commercial and residential addresses in one order. That way, you only have to build project one time and hit "submit." We'll take it from there while you move on to the next item on your to-do list.
Learn More
Tips for Printing Booklets
Need some help finishing your booklet?
Here are some design tips to get you started
Choose the
Right Binding
For a magazine look, go with saddle-stitch staples. For a booklet readers will turn to again and again, choose a sturdier binding like twin-loop or spiral coils.
Upgrade to
Color Covers
Save money by printing the interior in black-and-white, but make sure to upgrade the cover to full color so your custom print booklets makes an impression.
Play
with Size
Sometimes, less is more. Opting for a half-size print booklet might catch your audience's attention more than handing over a full-sized document.
Don't Forget
the Paper Stock
Choosing a premium paper stock like silk finish might be the difference between a booklet that someone glances at and one they literally never want to put down.
How Much Does Custom Booklet Printing Cost?
The price of booklets varies greatly. Make the most of your budget with per-unit prices from booklet printing service Mimeo that don't change based on volume. 
Get a ballpark range for high-quality printing with Mimeo with this pricing calculator. Schedule a call for a detailed quote and to set up corporate rates!
How to Print Booklets Online with Mimeo
It's easy to create booklets for printing and binding from wherever you are with Mimeo. Create custom booklets at home for marketing collateral, sales literature, training materials, or other projects with Mimeo's online, on demand print platform. 
Upload

Add your finished print design files to your free Mimeo library.

Customize

Choose from standard printer options like document size, paper stocks, saddle-stitch binding, or give us special instructions.

Print

Approve every change in the virtual proof, including real-time price quotes.

Ship

Whether you need overnight delivery to an event location or to send copies to 100 residential locations, we'll make sure your booklet is printed and shipped on time.

Talk to us

Need some help with booklet creation? We're here for you.
Frequently Asked Questions
Can't find the answer you're looking for? Here are some of our most frequently asked questions about print booklets with answers from our expert team.
More FAQs
It's easy to create booklets and saddle stitch documents in Mimeo Print. To begin, upload your files in PDF format to your library.
Select "booklet" from the document menu. Then, add your files to the document. You can add multiple files – such as your covers and your content – and change the order. Next, continue into the real-time document preview.
Here, you can customize paper stock, print to edge, and more. Our booklet printing service offers thousands of customizations, so if you need a customization you don't see, contact our customer success team. Finally, add the document to your cart.
You will be prompted to save it to your library or continue without saving. Then simply add your shipping details and check out.
With Mimeo, you can print your project on your own timeline, on demand. Place the order by 10 pm ET for delivery to almost anywhere in the world as soon as 8:30 am the next morning.
To be called a booklet, your document should have at least 8 pages. Otherwise, it is considered a leaflet. Your total booklet pages should be divisible by 8, otherwise you'll need to add a blank page.
We understand that sometimes you change your mind after submitting your online booklet printing order. Maybe you ordered too many copies or not enough? No problem! Navigate to the "Orders" section of your account. Select the Mimeo order number you'd like to cancel. Click "Cancel" in the upper right corner. Select the reason(s) you'd like to cancel, and we'll halt production.
If your order cannot be canceled, this means we've started production. Contact Customer Care via chat or phone with your order number and tell them you want to cancel it.
We strive to cancel your order without charging you. However, if your order has already gone to print, we will not be able to waive the charges.
A spiral bound booklet is a type of book or document that is bound together by a spiral wire or plastic coil that passes through small holes punched along one edge of the pages. This type of binding allows the booklet to lie flat when opened, making it easy to read and write on. Spiral bound booklets are commonly used for a variety of purposes, such as notebooks, calendars, journals, manuals, and reports. They are popular because they are easy to create, relatively inexpensive, and can hold a large number of pages while remaining compact and portable.
A perfect bound booklet is a type of book or document that is bound together with a strong, flexible adhesive at the spine. This type of binding creates a square, flat spine that allows the booklet to stand upright and easily fit on a bookshelf.
Perfect binding is commonly used for softcover books, magazines, catalogs, and other publications that have a higher page count than can be stapled together. Perfect binding provides a professional and polished look to the finished product and is commonly used in the printing industry. It is a popular choice for both short and long print runs and can be used for a variety of purposes, such as catalogs, annual reports, manuals, and promotional materials.
A saddle stitch booklet is a type of book or document that is bound together by stapling the sheets of paper together at the spine and then folding them in half. This creates a "saddle" or crease in the center of the booklet. The staples are usually inserted through the folded edge of the booklet, and they can be hidden or visible, depending on the design.
Saddle stitch binding is commonly used for booklets, catalogs, magazines, and other publications that have a lower page count. It is a simple and cost-effective binding method that provides a secure and durable finish, making it a popular choice for marketing materials and promotional items. The finished product can be easily opened and laid flat for easy reading and writing.
Even More Print Options
Don't stop with your booklet project. Print anything and everything under the sun with Mimeo, including: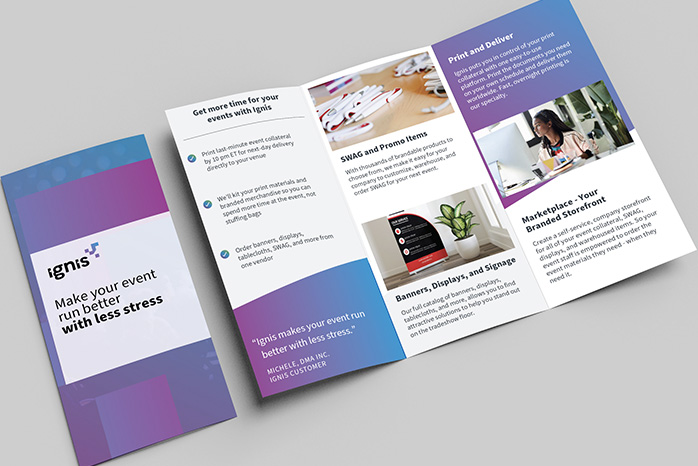 Brochures
Positively represent your organization, telling your unique story. Design, print, and deliver brochures that pop, so customers will be compelled to read them.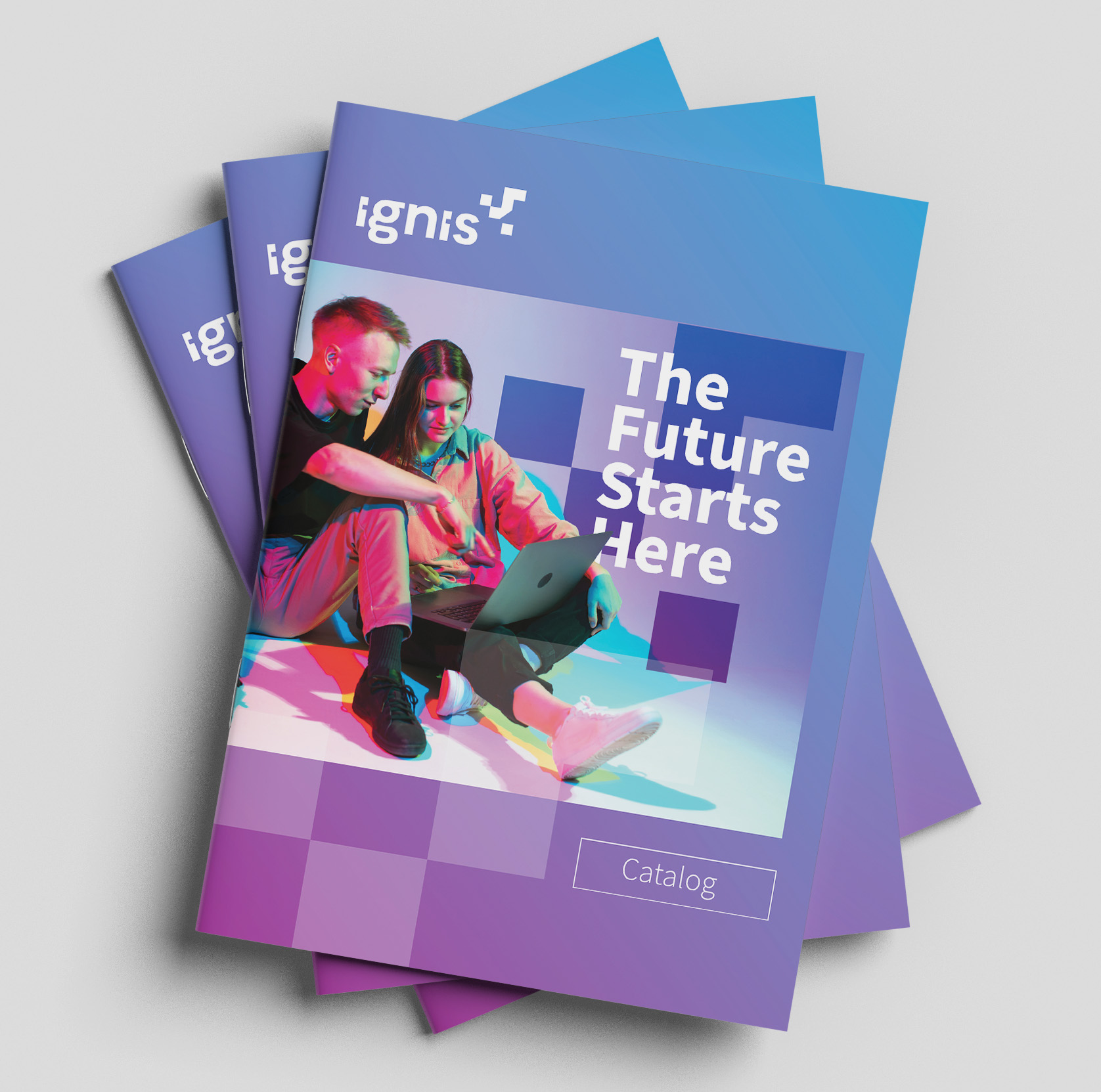 Catalogs
Show off your products and services in high-quality catalogs. Customize, print, and ship directly to your customers and prospects.
Flyers
Grab attention without breaking the bank. Build flyers that stand out with quality paper stocks, full-color double-sided print, and even lamination.
You might be interested in…
Not sure where and how to start? Check out these resources to help you decide.
Get Our Best Pricing for Printing Booklets
A representative will be in touch with you in the next 24 hours. See how much you can save.
Fill out the form to get a 10 minute demo. A representative will be in touch with you in the next 24 hours.
It's easy to print your business documents online with Mimeo.
No Order Minimums
Print from Wherever You Are
Budget-Friendly Prices
Overnight Delivery
API Integration
Warehousing