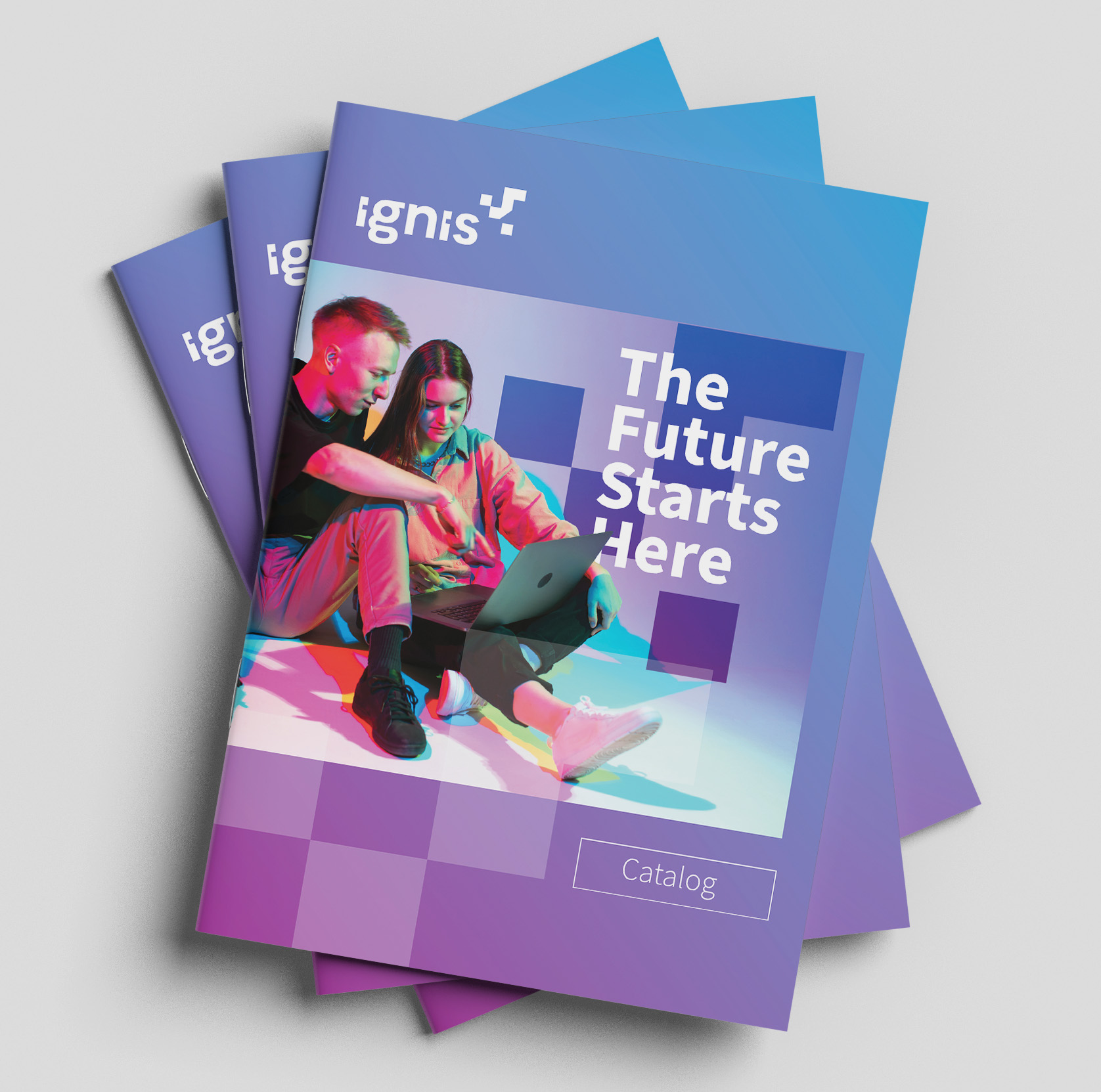 Print Catalogs That Stand Out
Create a lasting impact with professionally custom printed catalogs. Our magazine-style books allow you to showcase products, services, and achievements with style. With Mimeo, you have complete control to customize and create the catalog of your dreams. Start today
Catalogs are perfect when you need:
High ratio of professional photographs or illustrations
Professional color matching to CMYK or Pantone values
Premium paper stocks like silk finish or card stock covers
In our real-time builder, you'll watch a virtual proof update with each of your changes so you can order the online print knowing that what you'll see is what you'll get.
---
Customize Your Print With Mimeo
Interior Paper Stocks
Economy White Paper - Value White Paper - Premium White Paper - Premium White Paper 100% Recycled - Premium White Glossy Paper - Colored Paper
Cover Paper Stocks
White Card Stock - White 100% Recycled - Glossy White
Binding Options
Comb - Spiral - Saddle Stitch - Ring Binders - Perfect Bound
Catalog Sizes
8.5″x11″ - 5.5″x8.5″ - A4 - A5
Print Catalogs that Wow
When to Choose Catalogs
Catalogs are the perfect solution for showcasing your full array of products, services, or accomplishments in an attractive document. If you do it right, your audience won't want to put that catalog down.
Print that People Notice
Your amazing graphic design means nothing if you are printing with color streaking or misaligned binding. Mimeo guarantees high-quality print delivered on time, no matter where in the world you need it. That includes photographic finishes, premium paper stocks, full-bleed color printing, and more.
Stress-Free Printed Catalogs
Order your on your timeline, even if that's the night before you are supposed to put them in the hands of your audience. Place your order by 10 pm ET for delivery as soon as the next morning.
Deliver Directly to Your Audience
We deliver to up to 500 commercial and residential addresses in one order. That way, you only have to build the catalog one time and hit "submit." We'll take it from there while you move on to the next item on your to-do list.
Learn More
Tips for Printing Catalogs
We've got some ideas for how to make your catalog stand out from the rest.
Choose the
Right Binding
For a high-end magazine look, go with saddle-stitch staples. For a publication that readers will turn to again and again, choose a sturdier binding like a spiral coil or ring binder.
Upgrade to
Color Covers
Save money by printing the interior in black-and-white, but make sure to upgrade the cover to full color so your product makes an impression.
Play
with Size
Sometimes, less is more. Opting for a half-size catalog might catch your audience's attention more than handing over a full-sized document.
Don't Forget
the Finish
Choosing a gloss finish might be the difference between a publication that someone glances at and one they literally never want to put down.
How Much Does Catalog Printing Cost?
The price of printing varies greatly. With Mimeo, make the most of your budget with per-unit prices that don't change based on volume. Reach out to get a detailed quote and to lock in our best pricing. 
Get a ballpark range for printing with Mimeo with this pricing calculator. Schedule a call to set up corporate rates!
How to Print Catalogs Online
It's easy to print with Mimeo. Create custom catalogs for your training course offerings, top-line product offerings, samples portfolio, or other projects with Mimeo's online, on demand print platform.
Upload

Add your finished design files to your free Mimeo library.

Customize

Choose from standard options like saddle-stitch binding, gloss finish, and full-color printing, or give us special instructions.

Print

Approve every change in the virtual proof, including real-time price quotes.

Ship

Whether you need overnight delivery to an event location or to send copies to 100 residential locations, we'll make sure your catalog is printed and shipped on time.

Talk to Us

Need some help? We're here for you
Frequently Asked Questions
We're here to make catalog printing as easy as possible. Here are answers to some of the most commonly asked questions:
More FAQs
Catalogs are a publication that displays products, services, or information in an organized manner. It includes descriptions, specifications, pricing information, and images.
Used by businesses to promote and sell to customers, distributed through mail, in-store displays, or online platforms. They can range in size and be customized to fit the needs of the organization producing them.
Mimeo Print provides real time pricing instantly reflecting document specifications and changes. You'll always know your exact price prior to placing an order – no hidden surprises.
Mimeo allows you to choose from a variety of paper types to suit your budget and needs. We offer economy, value and premium white paper; premium white paper 100% recycled; premium white glossy paper; and colored paper. For covers, we carry white card stock, white card stock 100% recycled, and glossy white card stock.
Consumers tend to prefer to browse a traditional print piece and then go online to place their order. This form of publication continues to be strong, especially for direct mail.
A saddle-stitched catalog is a type of booklet or brochure that is bound together by stapling sheets of paper through the fold line, creating a spine in the center. The folded pages are nested together, and then stapled along the fold line with wire staples. This binding method is called saddle stitching because the folded pages rest on a saddle-like apparatus during the stapling process.
Saddle-stitched catalogs are commonly used for small to medium-sized publications such as product catalogs, company brochures, and newsletters. They are generally less expensive than perfect bound or case bound catalogs, but are still sturdy and durable.
Even More Print Options
Don't stop with your catalog project. Print anything and everything under the sun with Mimeo, including: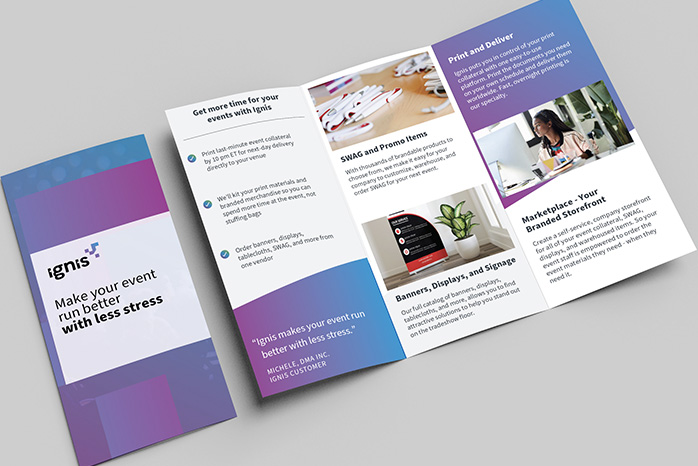 Brochures
Grab attention with high-quality brochures. Mimeo makes it easy to build and print attractive brochures, including trifold or four-fold options.
Postcards
Land in your audience's physical inbox with custom postcards. With Mimeo, it is easy to build, print, and mail your direct marketing campaign to your customers.
Newsletters
Inform and engage your audience with company newsletters. Mimeo makes it easy to print professional, attractive newsletters that keep you connected with your customers.
You might be interested in…
Not sure where and how to start? Check out these resources to help you decide.
Get Our Best Pricing for Printing Catalogs
A representative will be in touch with you in the next 24 hours. See how much you can save.
Fill out the form to get a 10 minute demo. A representative will be in touch with you in the next 24 hours.
It's easy to print your business documents online with Mimeo.
No Order Minimums
Print from Wherever You Are
Budget-Friendly Prices
Overnight Delivery
API Integration
Warehousing